How to make Aimee Song's "Song of Style Raw Bar" recipe and why it's worth the hype
I honestly feel like Aimee Song from Song of Style has singlehandedly changed the nutritional bar game. Now, to some that might sound like an exaggerated reach but her take on a raw bar has given me hope on guilt-free snacking. Yes, it actually tastes damn good and is incredibly easy to make.
Look, I needed something healthy, sweet and savory to munch on throughout the day and this ticked that box for me. Admittedly, I love to inhale Hot Cheetos, I'm a sucker for anything that has sugar in it, and don't get me started on ice cream. I eat fruit and I also eat the candy that's supposed to taste like said fruit. Please spare me the elimination diet and Whole 30 spiels, I know myself well enough to understand that I can appreciate those who follow through programs and change the way they look at food, but I'm just not one of those people right now. Nevertheless, I didn't come here to talk about my awful eating habits and flaws, did I? I can save that for another post.
Back to the raw bars: I saw Aimee post it on her Instagram story a while ago, and have seen her continue to flaunt those perfect squares of happiness every other day since then. So, when I noticed other content creators and friends making her #sosrawbars pretty frequently too, I knew she was on to something.
I don't cook or bake — shhh, I'm working on it — and was naturally terrified that I would ruin this recipe, especially since she didn't include any exact measurements in her how-to video. Thankfully others have also taken a stab at preparing it, so I tweaked various takes on the recipe to work for me and decided to share it with you in a visual way. When it comes to being in the kitchen, nothing is scarier for me than reading a step-by-step recipe without photos to calm my nerves and remind me that I'm on the right path.
I have made two batches so far, and am gonna' continue to be a five foot Betty Crocker in my kitchen while I switch up some ingredients to see if I can make it more delicious than it already is. No, seriously, me and my girlfriend have been inhaling these bars DAILY.
SCROLL DOWN TO SEE HOW THE MAGIC HAPPENS
Ingredients:
Quick oats (2 cups)

Chia seeds (1/4 cup)

Sunflower seeds (1/4 cup)

Walnuts (1/4-1/2 cup)

Coconut oil (1/4 cup)

Coconut flakes (pinch)

Dates (14-18)

Olive oil (dime size)

Salt (pinch)

Pepper (pinch)
Other Items You Need:
Measuring cup

Parchment paper*

Plastic wrap

Medium - Large bowl

Baking sheet

Glass dish

Spoon or spatula

Knife

Cutting board

Oven
*You can use foil paper if you don't have parchment paper. NOTE: DO NOT USE WAX PAPER AS A SUBSTITUTE! I almost did and am thankful google exists because that could have been a disaster.
I bought everything at Trader Joe's because it's easily accessible for me and the prices don't make me or my wallet cry.
Before you do anything, preheat your oven to 350°F
Line your baking sheet with parchment paper

Make sure to add the teeniest, tiniest amount of olive oil (or coconut oil) onto the parchment paper and spread evenly
NOW THAT YOUR "PREP" WORK IS OUT THE WAY, LET'S GO:
1. Pour your two cups of dry, quick oats into the mixing bowl.
2. Add 1/4 cup (AKA 4 table spoons) of chia seeds to the bowl.
Do you really, really love chia seeds? Cool. Add more if you want to. The beauty of this recipe is that it's hard to mess up in the beginning — it can all go downhill fast when you get to the dates, but I'll tell you how to avoid that. Keep scrolling.
3. Next, add your 1/4 cup of sunflower seeds to the bowl as well.
4. Put your walnuts in the dry mixture. I tend to go for a little more than a 1/2 cup of them because they're my favorite.
Note: Some people prefer to add the walnuts to the mixture after the oats, chia seeds, and sunflower seeds have been in the oven. I like my walnuts baked, too, which is why I initially add it in with everything else.
5. Add a pinch of salt and pepper to everything.
6. Combine all of your dry ingredients (oats, chia seeds, sunflower seeds, and walnuts). I like to use my hands, but feel free to to meld everything in a way that works best for you.
7. Scoop 1/4 cup of coconut oil into your sad beige blend and make sure to coat all the ingredients with the oil.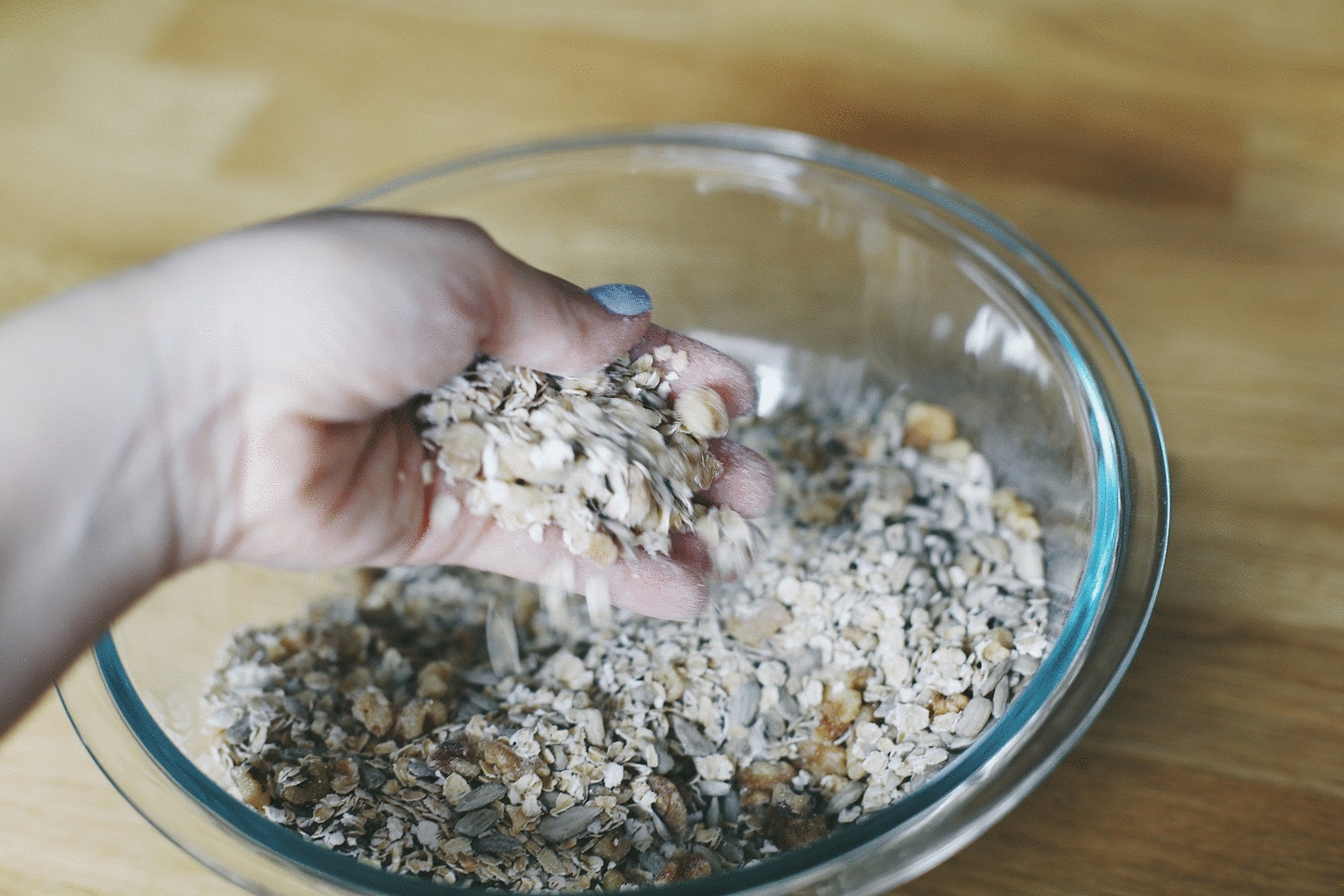 mix it all together, baby
If it looks like MUSHY BIRD FOOD, you'RE DOING it right!
8. Spread the mixture evenly to the coated parchment paper you have ready because you prepped like a BOSS.
9. Put it in the oven for 15 minutes. I set my alarm for the 7 minute mark so that I can move the mixture around to bake evenly. We want that perfect golden brown hue! Oh, and don't wash your bowl just yet because you'll need that again. I clean as I go but realized that I ended up doing double work because I had to reuse almost everything.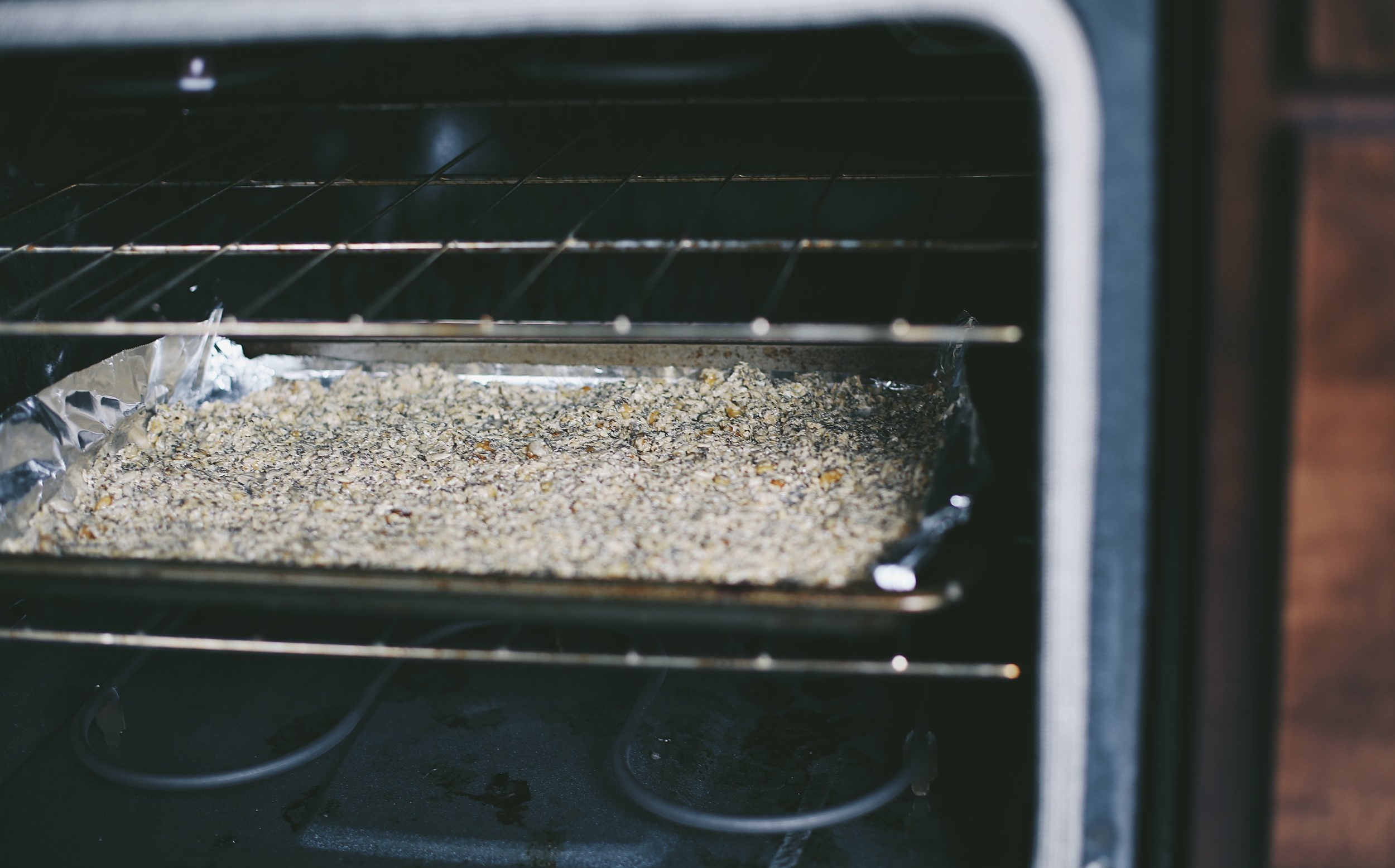 the smell will make you drool
10. While your mixture is getting a mini-tan, you're going to prep again. Line your glass dish with parchment paper. Try not to break a sweat.
11. You're also going to "prep" your dates by taking out the seeds and slicing them into smaller pieces.
Remember when I said you could ruin everything? This is it, THIS IS WHERE IT CAN GO WRONG.
I shot this post the first time I attempted making these bars. I had only used 10 dates and that wasn't enough for my mixture, which caused my bars to fall apart. The second time I made it, I used about 16 dates and they held up so much better! Long story short: more dates = better foundation.
12. Take your mixture out of the oven, let cool for ~10 minutes, and add back into the bowl.
13. Add your dates to the mixture and start to combine everything. You'll know you're doing it right if it feels like everything is sticking together (and to you!)
Press your mixture into the glass dish
14. Make it as even as possible by using your hands, a spatula, or a spoon.
15. Top off your bars-to-be with some coconut flakes. (Technically I had coconut chips, so I put it in my NutriBullet to make it a bit more granular.) Also, make sure to press in your coconut flakes into the mixture. If you just sprinkle them on top, they'll dust off once you cut into your bars. Trial and error, people. Trust me.
16. Cover the dish with plastic wrap and put it in the freezer for ~3 hours.
17. Cut your bars and enjoy! Because my glass dish was smaller, my bars were thicker (read: THICC) than anticipated. I placed my second batch into a bigger dish, thus creating more of a regular-sized bar.
YOU'RE A GENIUS, AIMEE!
If any of you out there are reading this and try to make it, let me know how it goes!